Senior Camp
For Boys and Girls
Rising 3rd – 9th Grades
Campers are grouped by rising grade level
Sessions & Hours
2-9 week options • June 15 – August 14, 2020
FULL DAY: 9:00am – 3:45pm
EXTENDED DAY: 8:00am – 6:00pm
Experiences They'll never outgrow
The True Life Adventures start here! With a day that begins with team challenges and ends with a dance party. Where we build a real-life carnival from the ground up and learn how to cook mouth-watering recipes. With leadership skills and good citizenship built into everything we do. This is no ordinary camp.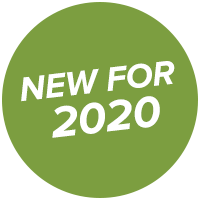 Campers are split into two divisions, each with a wide array of exciting, age-appropriate programs and activities. We are excited to welcome 3rd graders to Senior Camp in 2020.
Senior Squad 1 (Rising 3rd-6th Grades)
Senior Squad 2 (Rising 7th-9th Grades)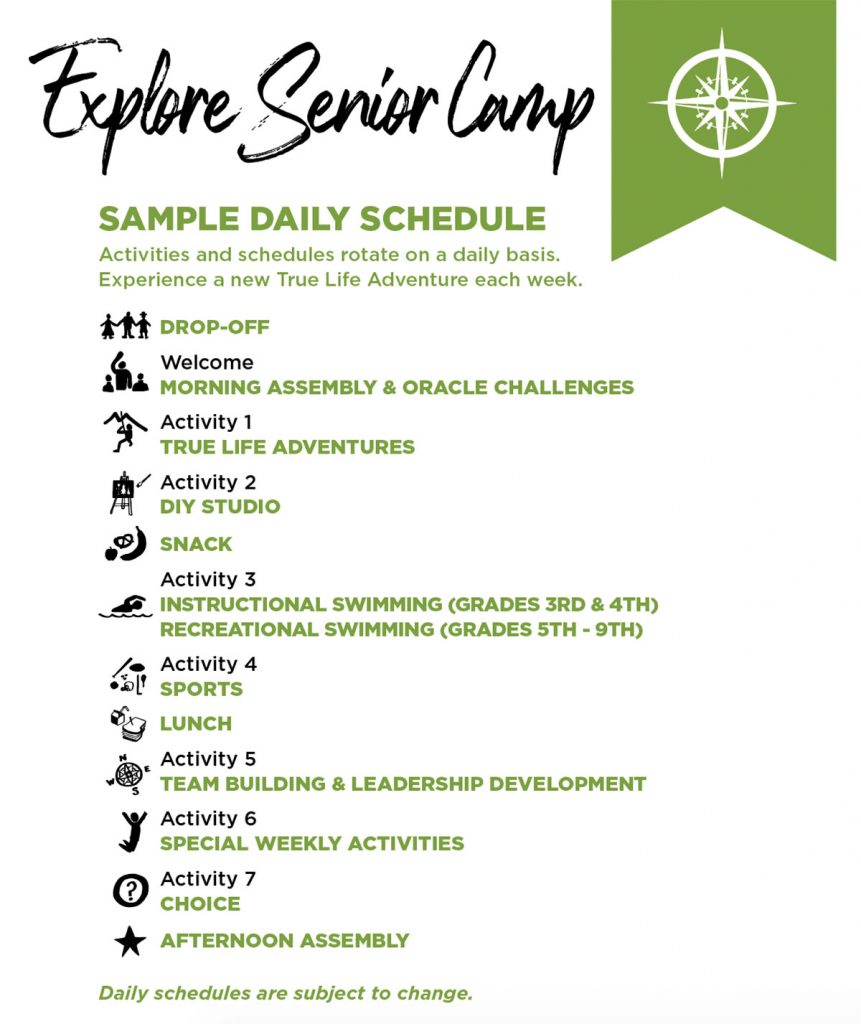 Activities
True Life Adventures (TLA)
Daily Instructional Swimming (Grades 3rd & 4th)
Daily Recreational Swimming (Grades 5th – 9th)
 
DIY Studio

New for 2020

Sports
Senior Quest (Teambuilding and Leadership Activities)
Weekly Specials
Archery Skills
Martial Arts
Fencing
Gaga
Leadership Development
Club Choice
Community Connections (Service Learning)
Senior Lounge (Rising 7th-9th Grades)
Time-Honored Traditions
Weekly Theme Days
Special Events
And More!
WEEKLY TRUE LIFE ADVENTURES
AERODYNAMICS: SUPER FLYING MACHINES
June 15 – 19
Take flight and join us for an exciting week that propels campers from ground zero to great heights! This aeronautical STEM TLA provides campers with hands-on experiences and insights into the physics of flight, force and motion. The fun is at an all-time high as they design, prototype, build and test their own flying structures and gliders!
EMOJI ART: DIGITAL GRAPHICS
June 22 – 26
Everyone loves emoji's – those cute and colorful symbols that communicate more than emotions! In this creative TLA, you will use digital graphics to layer emoji's of different sizes, colors and shapes to create self-portraits, landscapes, and creative works of art. At the end of the week, print out and mat your favorite creation made from these iconic symbols to display at ESF's Emoji Art Exhibition.
FOUND SOUND BUCKET BAND
June 29 – July 2
Traditional, concert, and street styles of percussion meet for a fun-filled musical expression that will result in new compositions, creative insights into music-making and maybe even new dance forms. Play and write folk inspired drum 'beats' and learn important musical lessons such as internalization of tempos and improvisation while playing music together. Buckets and found instruments will add to a variety of timbres and ensembles, and aid in producing inventive rhythms. Friends and family are invited to attend "A Symphony of Found Sound" on the last day!
Please note: Camp is closed on Friday, July 3rd.
FUN-TASTIC FRISBEE®
July 6 – 10
Calling all Frisbee® enthusiasts for a week of competition and fun! It's time to spice up your favorite Frisbee® games by discovering the sports of Ultimate Frisbee® and Frisbee® Golf! Learn these lifetime recreational and competitive sports, practice your "freestyle" moves and prepare for the Fantastic Flying Frisbee® Tournament on the last day! Friends, fun and flying discs…what better way to spend a week at Camp!
SPORT STACKING WITH SPEED STACKS
July 13 – 17
Welcome to ESF's Ultimate Sport Stacking TLA! Also known as cup stacking or speed stacking, this individual and team fitness sport combines hand­-eye coordination, balance, concentration, quick reflexes, speed and power! Throughout the week, campers increase agility and skills through participation in cup stacking warm-ups, drills and exercises, as well as team and individual timed challenges! Campers will also enjoy outdoor, team building initiatives using large-scale jumbo cups including relays, doubles stacking and more! Friday culminates with The Great ESF Sport Stacking Tournament. How fast can you stack the cups?
ROCKWALL: TAKE THE CHALLENGE
July 20 – 24
Conquer a towering rockwall with challenges designed for each skill level, under the watchful eye of an experienced instructor. This journey will lead you down the road of self-discovery, as you participate in teambuilding initiatives, collaborative problem-solving activities and exercises designed to develop and enhance the leader in you!
Gourmet Camper: A Culinary Tri-fecta
July 27 – 31
Put on your apron, roll up your sleeves, and join us for a Culinary tri-fecta of breakfast, lunch, and dinner specialties – with a splash of appetizers and desserts on the side! With the guidance of our executive chef, create and enjoy palate-pleasing dishes. This hands-on culinary experience will teach you about food preparation and kitchen safety, provide helpful hints for measuring, chopping, mixing, and garnishing, and help you discover the joy of cooking!
CAMP CARNIVAL, CIRCUS SKILLS AND MAGIC
August 3 – 7
One of our most-anticipated traditions in Senior Camp, you will have the opportunity to design and build a Carnival from the ground up. Learn face painting techniques and how to create balloon animals. Become proficient in juggling, clowning and sleight of hand magic tricks. Finalize your Carnival booths and practice your performance skills in preparation for the exciting Main Event hosted for Day Campers on the last day!
ACTING AND IMPROV
August 10 – 14
Discover your inner actor! With the guidance of an acting coach, participate in theater games, drama exercises and creative activities designed to expand your speaking, acting, improvisation and comedic skills! Friends and family are invited to an "Afternoon of Improv & Sketch Comedy" on the last day!
Highlights
The Senior Camp Showdown
Week of July 13th
A week-long competition, where strength, speed, critical thinking and teamwork combine! Events include an inflatable obstacle course, the Amazing Race, Trivia Face-off, Aqua Olympics and more!
Ultimate ESF Games: Green vs. Blue
Week of July 27th
A fun-filled week of team competitions! Green vs. Blue – who will be this year's champion?
Evening Events
The Great American Picnic
Thursday, June 25th
Takes place during the camp day
Rising 3rd – 6th Grade only
Fiesta
Thursday, August 6th
Takes place during the camp day
Rising 7th – 9th Grade only
Flick & Float and Senior Camp Sleepover
Thursday, July 23rd
Oldest group only
Enjoy pizza and a fun-filled night floating on a tube in Riverdale Country School's swimming pool while watching a movie with your friends! Then, spend the night and participate in the oldest Senior Camp Tradition – The Sleepover!
---
Enhanced Teen Programming
The Apprentice Program
Rising 7th – 9th Grades
Get ready to enjoy enhanced teen programming exclusively designed for our oldest Senior Campers (Squad 2). Campers will create life-long friendships while participating in all Senior Camp traditions and True Life Adventures, coupled with FUN teambuilding activities, leadership training, community service projects, mentoring opportunities with younger campers, project-based team challenges, opportunities to assist with special camp wide events and more. A perfect blend of all the elements of camp life!
ESF's Aquatics Program
Boys & Girls, Rising PreSchool-10th Grades