Mission: I'm possible
Promoting Education, Sports and Fun while challenging the status quo.
The ESF Way is about dreaming big, challenging assumptions, thinking creatively, and never compromising safety or quality. Our commitment to excellence is in our DNA and it's what makes us the leader in the people development business.
Our mission is to provide the finest camp experience for people of all ages- an experience that will be remembered for a lifetime. We are committed to quality and excellence in everything we do. We provide carefully designed programs and activities, a dedicated, experienced and well-trained staff, along with a caring, safe environment with premier facilities. Through education, sports, and fun, we offer opportunities for campers and team members to believe in themselves and to achieve their full potential.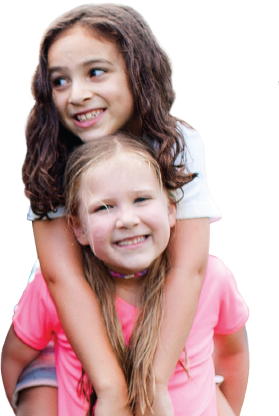 COMPANY WITH A CONSCIENCE
At ESF, we define success a little differently and for that reason we make it our priority to impact our communities and improve the human condition. It is important to us and what separates ESF from everyone else.
Michael J. Rouse
EXECUTIVE DIRECTOR & CO-FOUNDER
So much more than an organization, company or grouping of seasonal staffers, ESF is a Team – committed to making a difference in our campers' lives and in our communities. We take great pride in giving back through our foundations, Dream Camp and Acting Without Boundaries.
Our Core Values
Our core values are the commonly held beliefs and commitments that guide our organizational behavior and company decisions to achieve the Vision and Mission of ESF.
QUALITY
Excellence in safety and service
GROWTH
Moving forward, maximizing potential
INTEGRITY
Honesty in words and actions
CREATIVITY
Making the impossible possible
LEADERSHIP
The courage to shape a better future
ACCOUNTABILITY
Do what you say you will do when you say you will do it
37 years young and we're Just getting started
1982
ESF Summer Camps, starting as a 2 week Tennis Camp, is founded by brothers Michael (15) and Bill (11) Rouse at the Haverford School. The camp office is located in the family's basement.
1991
ESF expands to Norwood-Fontbonne Academy and hires its first full time employee, programming director Debbie Russo. Camp programming has extended from Tennis Camp to include Day and Sports Camps. Camps offices have moved out of the Rouse family basement to Conshohocken, PA.
1997
ESF experiences a period of unprecedented growth. New sites have opened at the Lawrenceville School (1992), Greenwich Academy (1993), Gilman School (1994) and Episcopal Academy (1996). Programming now includes Mini Camp and Senior Camp. On June 23, Phillies Baseball Academy is launched with eight locations in PA, NJ and DE.
2002
Dream Camp, a tuition-free camp for underprivileged youth, opens at Girard College in Philadelphia, joining its sister location at Trinity College in Hartford, CT, which launched in 1998. ESF has continued to expand, opening up at Moorestown, NJ, also in 1998, and moved into adult camps for the first time, launching Phillies Phantasy Camp at the team's Spring Training Facility in Clearwater, FL, in 2001.
2011
ESF partnered with the MLS team the Philadelphia Union to start Union Soccer Schools for boys and girls ages 6-14. During the previous decade ESF has continued a strong growth trajectory, launching both new sites (at the Montgomery School in 2005 and Georgetown Prep in 2009) and new programming in the form of Major Camp, 1 to 2 week specialty offerings in the creative and performing arts, science, business and technology. In 2004, Christine Rouse, sister to Michael and Bill, started Acting without Boundaries (AWB), a unique theater program for at risk youth.
2016
ESF dominates the Philadelphia sports scene by joining forces with the Philadelphia Eagles in the Spring to launch Eagles Football Academy, Eagles Cheer & Dance Academy and Eagles Fantasy Camp. New ESF sites continue to come online with the Riverdale Country School launching in 2013 and the Ranney School in 2016. ESF also now provides year-round enrichment at Haverford School, Episcopal Academy and Riverdale Country School.