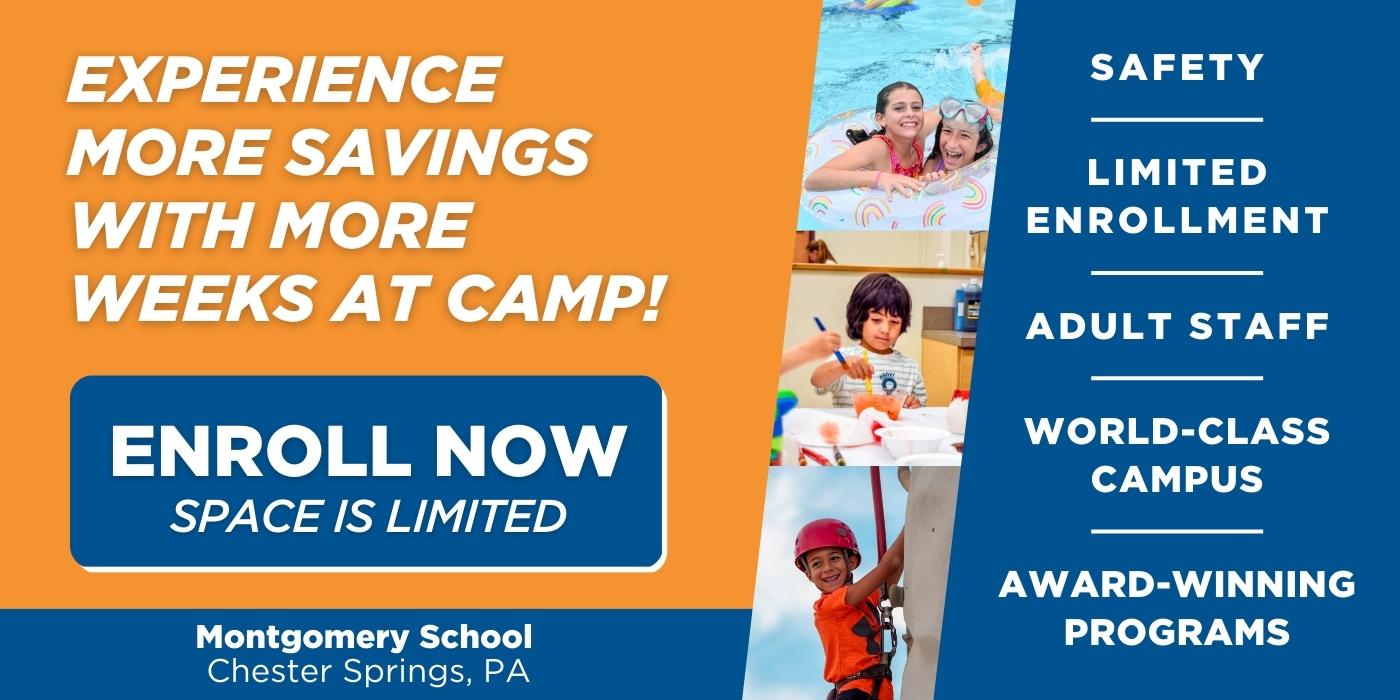 THE COUNTDOWN TO SUMMER 2023 HAS BEGUN!
CHECK OUT OUR PREMIER COLLECTION OF CAMPS!
60+ Activities for every age and interest!
June 20 – August 18, 2023
For Boys and Girls, Rising Grades Preschool-9th
Through our 19-year partnership with Montgomery School, our summer 2023 programs
will be chock-full of enrichment opportunities and action-packed fun activities.
Meet the site director for Montgomery:
Traci Loftus
Hi! My name is Traci Loftus and I am the Site Director for ESF at Montgomery School. The summer of 2023 will mark my 15th summer working for ESF! I began working for ESF in the summer of 2000 at The Haverford School as a Senior Camp counselor. The following two summers, I was promoted to Senior Camp Support Specialist, having various roles in Senior Camp.
Learn More About Traci


SIBLING DISCOUNT
Register one child for camp and save an EXTRA 5% for each additional sibling.
Discount applies to the lesser tuition(s)

MULTI-WEEK SAVINGS
Enroll for 4-5 weeks to get an EXTRA 4% savings per child
Enroll for 6+ weeks to get an EXTRA 6% savings per child

REFER A FRIEND
Receive $100 OFF 2024 Camp Tuition for each new camp family you refer that enrolls.

JUNETEENTH SAVINGS
Receive a reduced rate when you enroll June 20-23, 2023. No camp on Monday, June 19th
INDEPENDENCE DAY SAVINGS
Receive a reduced rate when you enroll July 3-7, 2023. No camp on Tuesday, July 4th.

TAX BENEFIT PLANS & DEPENDENT CARE CREDITS
You can also use your employer-sponsored tax benefit plans and Federal Child and Dependent Care Credit when your children attend ESF Summer Camps.