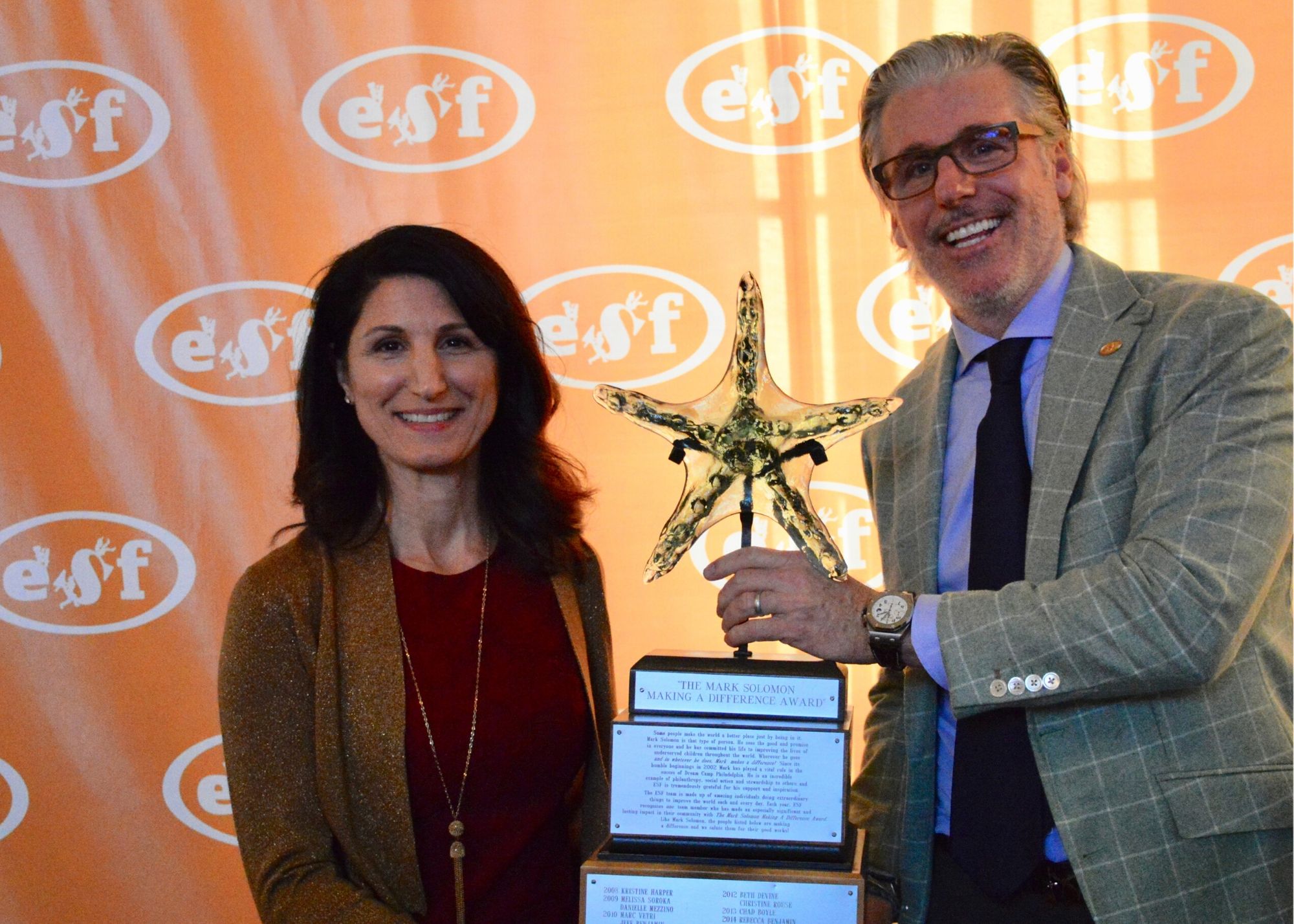 Acting Without Boundaries Artistic Director Wins Prestigious Make A Difference Award
This week, ESF Team Members came together to celebrate the holidays, honor the incredible achievements we've accomplished as an organization and recognize individual team members for their hard work, dedication and commitment to inspiring ESF campers.
Of the awards given throughout the event, one stands out: The Mark Solomon Make A Difference Award, given to a member of the community who has made a profound impact on our community. This year, we're proud to honor Maria Ceferatti for her commitment to enhancing children's lives through art.
Maria, a gifted musician, published author and music educator, has been working with ESF for more than 20 years – first as a True Life Adventure Theater Specialist at ESF Lawrenceville before joining the ESF Programming Department full time. But her greatest impact is in her work with Acting Without Boundaries.
AWB is an acting group for individuals with physical disabilities. The nonprofit was started by Christine Rouse, sister to ESF Co-Founder and Executive Director Michael Rouse, who has never let her cerebral palsy impact her love of theater.
"When Christine asked me to be a part of AWB, I didn't think I could do it," Maria said. "I didn't have a special education degree. I didn't have any experience working with kids with physical disabilities. But she saw something in me that I didn't see myself. She had faith in me."
From her first experience with AWB, Maria knew she had to be involved.
"The first time I saw the actors perform, I was stunned," she added. "They loved to perform, and they were really good. I had never seen anything like this before. I had never seen a disabled actor. It opened my eyes to the possibilities."
The group's mission was close to Maria's heart. Her son, Simon, born premature, is blind. He was 4 years old when Maria got involved in AWB. So, she put him on stage.
"He almost didn't have a choice," she said, laughing. "But he absolutely loved it. It gave him social opportunities in addition to artistic opportunities. It was such a gift for him."
"He regards his fellow AWB actors as his family," she adds. "He feels comfortable and accepted – unconditionally – and that's an amazing concept for anyone, let alone someone with a physical disability."
Her dedication to the program was not only fueled by her love of working with these actors, but her admiration of AWB founder Christine Rouse.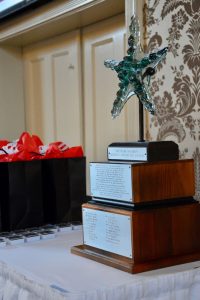 "With Christine, one great idea leads to another great idea, which leads to another and another and it never stops," Maria said. "As the months and years went on, we had a stronger vision for what this organization could be."
In 2008, Maria took on an additional role as artistic director for AWB and AWB Jr. She also teaches music at Archbishop John Carroll High School, Holy Child Academy and St. Lucy Day School for Children with Visual Impairments.
"How does Maria get all this done you ask," said Jen Huth, AWB General Manager, when introducing her for this award "With grace, dignity, kindness and integrity."
Maria Cefferati joins an elite group of past winners who include Dr. Muniya Khanna, a clinical psychologist, author and researcher specializing in anxiety and related disorders in children and teens; Zia Victoria, a singer-songwriter and former ESF Camper who spreads messages of kindness and gratitude; and of course, Mark Solomon, whose longstanding commitment to helping children through ESF Dream Camp inspired ESF to name the award in his honor.
"I am completely humbled," Maria said. "I remember watching past winners receive this award, and I've seen the amazing impact they have on their communities. I am so grateful."
Watch the highlights from our annual Holiday Brunch!