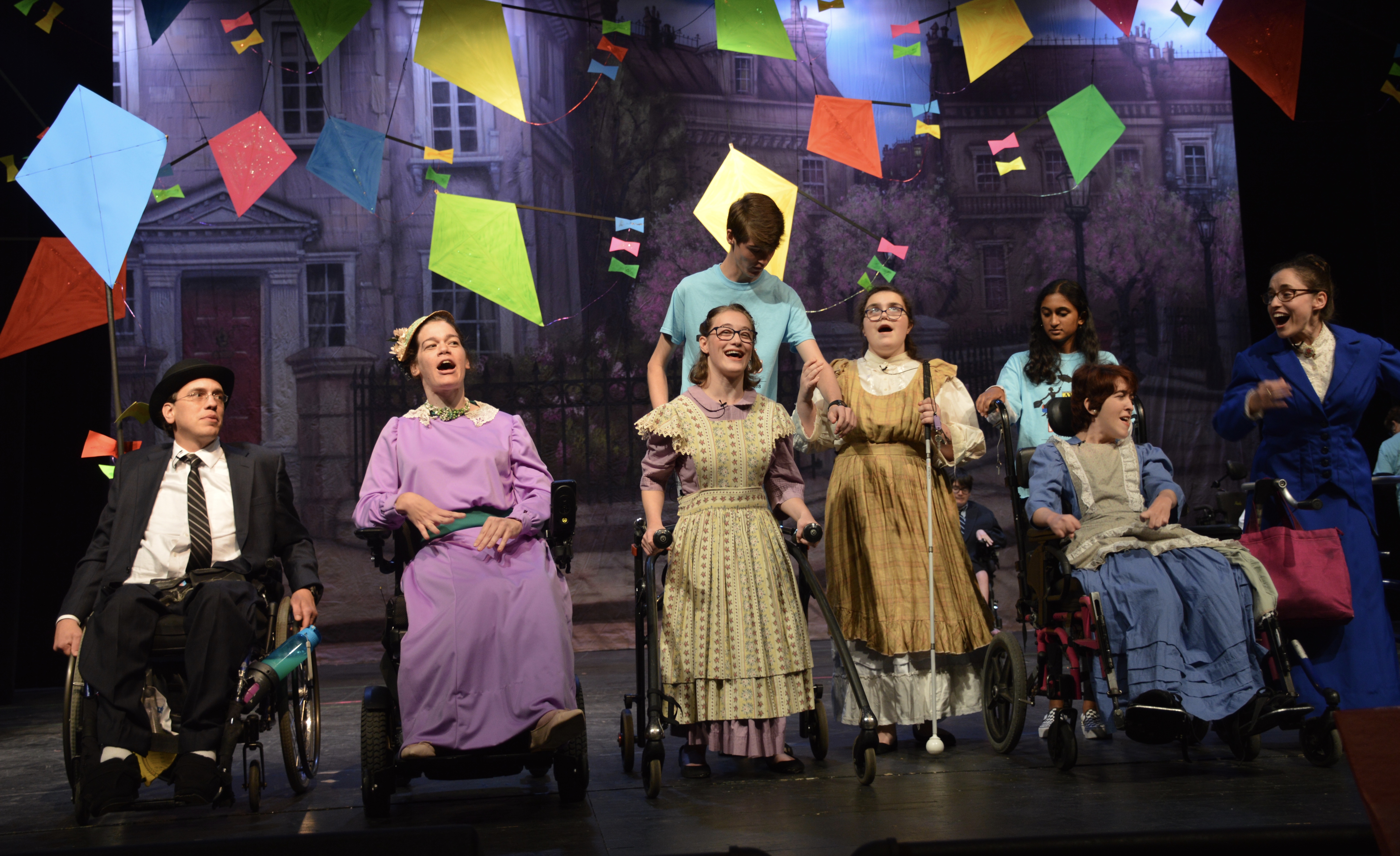 Acting Without Boundaries: Giving Actors with Disabilities The Chance to Take the Stage
Twice a year, a group of extraordinary actors take center stage with Acting Without Boundaries, an acting group for individuals with physical disabilities.
In high school, Christine Rouse didn't have a community of people like herself. She had always loved acting, but she often found herself in background roles. She was born with Cerebral Palsy, and the programs she joined didn't give her the opportunities she needed to shine.
That is, until she found National Theatre Workshop for the Handicapped, an actor's workshop for people with physical disabilities. It was a two-week summer program in Maine that not only made her feel special but also gave her a sense of independence and community she didn't have before.
When Christine's older brother Michael Rouse, ESF Camps Co-Founder and Executive Director, went to see her performance, he noticed a profound change in her.
"She had this confidence on stage that I had never seen in her before," Michael said. "It was such a special thing to watch. I was blown away not only by her but by everyone in the cast. The show was sold out — the whole town came together, shut down all the stores, to watch. For the first time, she felt like she was a part of a team."
"Directly afterward," he added, "she came to me and said, 'I want to do this for kids.'"
Christine Rouse founded Acting Without Boundaries in 2004 as a part of a foundation started by ESF Camps. As word spread, the program gained 10 actors, then 25. Now, 13 years later, AWB is a community or more than 40 actors, many of whom are also ESF Campers, coming from as far as 70 miles away. The group meets once a month for four hour long acting sessions to prepare for the full-length productions they perform twice a year. It was, and still is, the only organization in the Greater Philadelphia Area where actors with disabilities can star in a theater production alongside people just like them. The program has two groups: One for actors ages 12 and up, and the other is AWB Juniors for actors ages four to 11. It's completely free for participants.
Being on stage in a performance like this has given its cast members the same sense of community, accomplishment, and confidence that Christine felt in Maine all those years ago. For example, Simon, an AWB Actor, was born a micro preemie at 1lb, 3oz, and is blind as a result. He is 15 years old and has been a part of Acting Without Boundaries since he was five-years-old.
"Being on stage for me, I just feel electrified," said Simon, in an interview with NBC GIVE. "I really think that it is very crucial for people with disabilities to have an outlet where they can make friends and enjoy what they are doing."
"I've never had a community with so many people who have had so many of the same experiences that I've had, and we are able to sort of take that and create something beautiful out of it," said Hannah, another AWB actor. "I've always loved to do theater, and this is such a great spot where we have a chance to do it without being inhibited. All we have to worry about is our performance and our bond as a group."
Want to learn more or get involved with Acting Without Boundaries? Visit their website for more information.