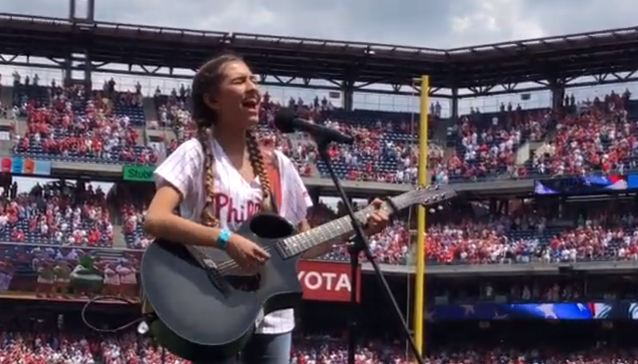 Spreading Gratitude Beyond ESF Camps
ZIA VICTORIA PERFORMS WITH FLORIDA GEORGIA LINE AND SINGS THE NATIONAL ANTHEM AT THE PHILLIES-NATIONALS GAME

Former ESF camper Zia Victoria took The Gratitude Tour beyond camp this past weekend with two epic appearances. The teen singer-songwriter performed the Grammy-nominated song "Meant to Be" on stage with Florida Georgia Line in front of 25,000 fans in Camden, NJ on Saturday night. On Sunday, she opened up the Phillies-Nationals Game in Philadelphia with her rendition of "The Star-Spangled Banner." We are so proud of Zia and her attitude of gratitude!

Zia Victoria and Juna N Joey continue The Gratitude Tour this week. We'll see you at one of their upcoming stops at ESF Camps:
July 15: The Episcopal Academy, Newtown Square, PA
July 15: The Montgomery School, Chester Springs, PA
July 16: The Haverford School, Haverford, PA
July 16: Norwood-Fontbonne Academy, Chestnut Hill, PA
July 17: Georgetown Prep, North Bethesda, MD