Meet Our Camp Director: Jenny Smith
Jenny Smith
Hi, my name is Jenny Smith and I am the Site Director for ESF at Greenwich Catholic School.  2023 will be my 12th summer with ESF and my 11th summer as Site Director. As the former Site Director at ESF at Greenwich Academy, I am excited to move to our new home at Greenwich Catholic School. I began working at summer camps when I was a Senior in High School, teaching tennis at Chase Tennis and Golf Camps in Bethlehem, N.H. Seventeen summers later, I was still at Chase serving as the Director of Tennis and of Camp Life. After receiving my Master of Science degree in Physical Education, I spent the next 30 years at the Nightingale- Bamford School in NYC, where for 24 years I was the Director of Athletics and Physical Education. I was also the Director and Founder of the summer camp, "Sunny Days" at Nightingale for 20 years. I am currently in my 8th year at the Rye Country Day School, where I teach, coach and coordinate within the Physical Education Department.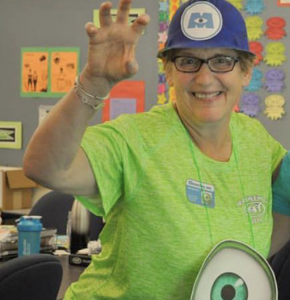 What do you love about working at ESF?
It is one of the happiest, fun and professional places that I have worked. Every day, we get a chance to impact children's (and adult's) lives in a most positive manner.
What is your favorite camp tradition?
World League! It is an opportunity for sports campers and coaches to come together from different Sites and compete. In my 37 years of coaching, these competitions bring chills to my body because of the collaboration and sportsmanship that I have observed.
What is an ESF Fun Fact about you?
I love being "Captain Respectacular!"
What is the most unique/interesting job you have had outside of ESF?
When I was in Graduate School, I worked at a Pizza shop where I made pizza, Stromboli, cheesesteaks and grinders.
What is your favorite quote?
"It doesn't get better than this!" —ESF Summer Camps
What is one of your quilty pleasures?
Ben and Jerry's "Phish Food!"
If you could be a super hero who would it be?
Super Woman!