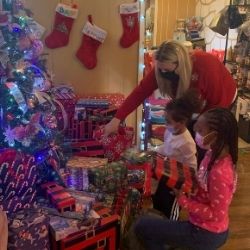 ESF's Dream Camp Foundation – Creating Holiday Miracles Since 2008
At last count, Pennsylvania is home to more than 1.4 million residents living below the poverty level.  This staggering number includes 12.3% specifically in Philadelphia, and 1.6 million residents in Hartford, CT, with Hartford as one of the poorest cities on the East Coast, an issue made worse by COVID-19.  As the effects of COVID-19 continue to impact our daily lives, low-income youth and families are suffering more than ever. Unemployment is at an all-time high and food and housing insecurity has skyrocketed.
Census data shows that rent is unaffordable for nearly half of renters in Philadelphia and Hartford, leaving residents unable to pay for necessities like medical costs or child care let alone on holiday gifts for loved ones.
That is where ESF Dream Camp Foundation has played a critical role for over 20 years, by providing low-income youth in Philadelphia and Hartford, Connecticut with award-winning, after-school and summer programming to help youth reach their full potential.  In 2008, the Dream Camp team started a holiday tradition called "Miracle on West Ave." Inspired by the generosity of an annual gift by a single donor, matched by donations and gifts from the ESF's Executive Team, and other community members, Dream Camp at Trinity College in Hartford, CT and the ESF Dream Camp Foundation in Philadelphia delivers a complete Holiday Miracle to families every December.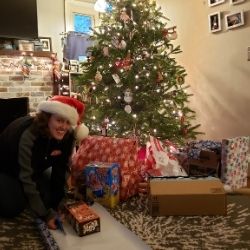 Our families in Hartford, CT:
One family with three children has been a part of Dream Camp since 2006. Parent had surgery in March and has been in and out of the hospital since that time. The daughters are both former campers, the eldest was a staff member at Dream Camp prior to graduating from college, and her younger sister is a current staff member and a sophomore at SUNY Cobleskill with an interest in veterinary medicine. Their brother is a sophomore in high school and has attended Dream Camp since he was in 1st grade. A second family has been a part of Dream Camp since 2011. The household has nine members and the parent works evenings. There are seven children in the home ranging from age 2 (twins) to 15. Tragically, a brother was murdered this past year, and the parent recently gained custody of the late brother's two young sons.
"Christmas was spectacular. Again, thank you for everything you guys have done. Happy New Year!" – Tenisha, Dream Camp Trinity Parent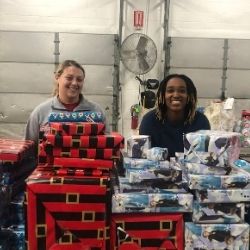 Our Philadelphia families:
One family is a single parent supporting three children, two of them adopted, ages 12, 13, and 14. The parent works 76 regular hours and an additional 52 hours in overtime in a two-week pay cycle. They have been part of Dream Camp since 2017. A second family is a single parent supporting three children. The oldest daughter is in 2nd grade and participates in Girl Scouts and karate. She's a great older sister to her two younger siblings and loves helping around the house.
"Thank you for all the gifts! The kids were so excited. You really made this Christmas one that we won't forget." – Shameka, Philadelphia Dream Camp Parent
All of the families will receive gifts including clothing, shoes, enrichment activities, educational games, household items, wish list items, and much more. All of the gifts are wrapped, labeled, and delivered before the holidays by the Dream Camp Team and some holiday elves. Everything is set up in the family's home when the children are out of the house and fill closets full of presents so it is a surprise for the little ones. Each year, parents and caregivers open up the door to receive the gifts and are filled with tears of joy, gratitude, relief, and kindness. It is truly a holiday miracle!
More about Dream Camp Foundation: Since 1998, Dream Camp has awarded over 12,000 year-round tuition-free scholarships and has provided innovative and award-winning after school and summer programs for children from two of the nation's toughest cities. Each day, Dream Camp Foundation provides hundreds of urban youths in Hartford, CT and Philadelphia, PA an opportunity to become the people we know they can be. Most importantly, the Foundation offers them the tools for success and the opportunity to become the people they want to be.
The philosophy is simple: nurture the individual, educate the mind and inspire the spirit. ESF Dream Camp Foundation believes in a holistic approach when it comes to children and understands that lessons aren't only learned in our classrooms. They are also learned on our playing fields, on our stages and in our everyday interactions. For more information on how you can support the ESF Dream Camp Foundation go to esfdreamcamp.org or call 610.581.7100, ext. 215.