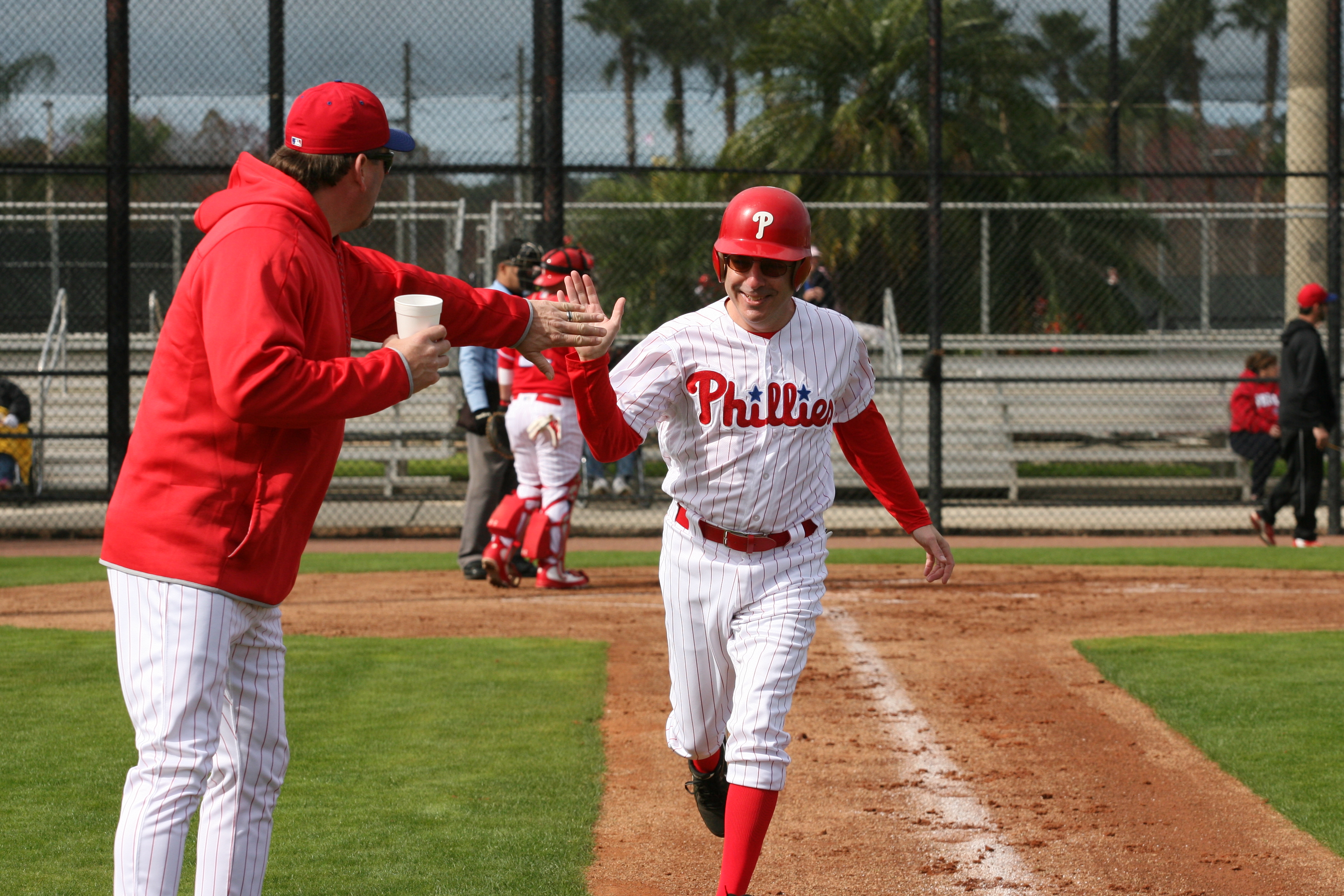 Phillies Phantasy Camp Shows That ESF Is Not Just For Kids
Besides being considered the gold standard of summer camps for kids, did you know that ESF also delivers quality camp experiences for adults?
For 19 years, ESF has traveled to Clearwater, Florida to help adults live their Major League dreams at Phillies Phantasy Camp. In partnership with the Philadelphia Phillies, ESF brings its summer camp expertise and commitment to excellence to this once-in-a-lifetime MLB experience, showing that camp isn't just for kids.
Phantasy Camp brings together people from across the country and around the world for a "sports experience where anything becomes possible." Decked out in custom Phillies uniforms, players compete in a week-long baseball tournament they'll never forget. Campers take to the field with generations of the best baseball players to ever play for the Phillies, players like World Series Champion Brad Lidge, Hall of Fame Nominee Charlie Manual, and All-Star former Second Baseman Micky Morandini among many more. Off the field, they have the opportunity to spend time with these Phillies baseball legends, and they form friendships with each other that last a lifetime.
Campers this year were between the ages of 30 and 84 years old, but the moment they landed in Clearwater, they become teenagers again.
"It's the one place where people take off their watches, forget all their responsibilities and feel like they're kids again," said Michael Rouse, ESF Summer Camp's Executive Director and Co-Founder. "There's a uniform, there are rules, and there's a lot of fun. It brings back so many wonderful memories."
Top 3 life events:
1…Getting married
2…Kids being born
3…Phillies Phatasy Camp
That's my teammate in that picture, John Massarelli and his beautiful bride, Joanna.
-T. J. Moos, Phantasy Camp Alumni 2012

— T. J. Moos (@TJPhillyPhan54) October 25, 2018

Phantasy Camp is more than baseball: It's a place to bring families together. One player flew his parents to Florida, and although they missed their initial flight, they made it to Clearwater just in time to watch their son not only pitch a great game, but catch the winning out. He hadn't pitched a game since he was 12-years-old, so this was the first time in almost 45 years that his parents saw him play. He was speechless as he presented the game ball to his father.
"I was just so overcome thanking my dad for teaching me to play ball," he said.
Many Phantasy Campers come back year after year, sometimes creating Phantasy Camp legacies as their children and grandchildren step up to the plate alongside them. The Championship team, Team Lefty, was coached by Phillies Legends Rheal Cormier and Matt Stairs and lead by three generations of the Clinger family.
Scott Palmer, a Broadcast Pioneers of Philadelphia "Hall of Fame" inductee and Philadelphia Phillies Baseball Club Director of Public Affairs has been working with the camp for years. At 69-years-old, this program still brings him back to his childhood.
"We all entered a wonderful time machine [at Phantasy Camp.]," Palmer said in a speech at the end of camp. "The real world with all of its problems and concerns took a back seat to those days of yore when we were much younger.  When getting a hit on Saturday morning in a Little League game put a smile on your face for the entire week."
Enrollment for Phantasy Camp 2019, our 20th anniversary, is open NOW! Visit the Phillies Phantasy Camp website for more information, and stay up to date on camp announcements and events on social media! For more information about Phillies Phantasy Camp, call 610-520-3400!