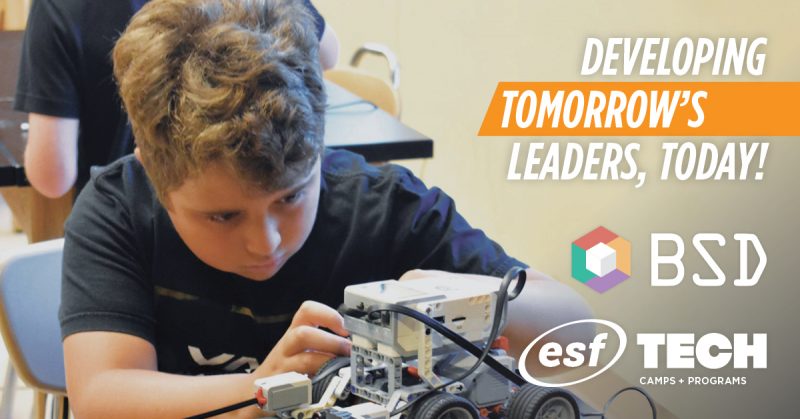 Build Your Child's Love of Technology with ESF's Hands-On Specialty Camps, in exclusive partnership with BSD Code + Design Academy.
Technology is all around us, and as parents it is tough to decide where and how to use it in our children's lives. After a long academic school year, summer camp can be the perfect opportunity to enhance their learning.
ESF's Technology Camps feature an all new, cutting-edge curriculum, custom designed by BSD to enhance 21st century problem-solving skills. For over three decades, ESF Camps has built a reputation for character-building programs with world-class facilities. New this summer, an exclusive partnership with BSD Coding + Design Academy will ignite the imagination of campers entering kindergarten through ninth grade with technology, design, and code camps.
BSD stands for Building Something Different. The personalized, project-based BSD curriculum is designed to challenge campers to solve real world problems in their own unique way. They will apply design thinking to build solutions that impact their peers and community, hold thought-provoking discussions, and incorporate unplugged activities to reflect on how technology can solve everyday problems – all while growing their technology portfolio.
BSD's online learning platform lets campers code projects, practice their skills, and save all of their progress. (Each camper will get their own login credentials so they can access and build on their portfolio over time and share it with family, friends and teachers.)
ESF's extensive list of technology, design, and code camps provides diverse learning opportunities for a wide range of age groups and skill levels. This summer, campers can choose from a variety of technology camps for a hands-on experience that allows for imagination, exploration and fun! The topics of the camps include Virtual Reality, Minecraft, Robotics, Game Development, Engineering, Coding, Digital Communication, and more. Campers learn to lead and mentor others while solving real world problems with project-based learning techniques.

Game Development
The video game development camps are all about building real video games! Topics such as coding, game theory, and 3D modeling will allow campers to take their games to the next level.
Digital Communication
Digital communication combines technology skills with digital media storytelling. Campers will create films, digital art, and special effects.
Engineering and Robotics
The engineering and robotics curriculum is built entirely around problem-based learning and design thinking. No two camp weeks will be the same because different campers will solve problems in unique ways.
Explore Coding
Learning to code is not just a great resume builder, it's also tons of fun! Through coding, we practice troubleshooting, self-learning, problem solving, collaboration and more!
No matter which camp you choose, your child is headed for his or her best summer ever with ESF.