Meet Our Camp Director: Allie Rauso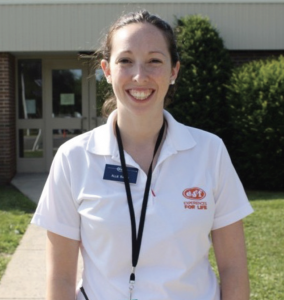 Allie Rauso
Hi, my name is Allie Rauso and I am the Site Director for ESF at William Allen Middle School. Summer 2020 marks my 12th summer working at ESF! Since starting out as a counselor in 2009, I have held various roles from Support Specialist to Senior Camp Director, to Assistant Site Director and now Site Director for the last few years. I graduated from Penn State University in 2006 with a Bachelor's degree in Psychology and got my Masters in Math Education from New York University. During the off season, I teach 6th grade Mathematics in the Maple Shade School District. I have a 7 year old daughter, who can't wait to return for her fourth summer at ESF, a 4 year old son, and a loving and supportive husband of 11 years. I love singing, dancing, cats, trivia games and all things Disney!

What do you love about working at ESF?
The incredible staff! The type of people that work at ESF bring such energy and enthusiasm that positively impacts the campers and makes it easy to call them my summer family!
What is your favorite camp tradition?
Family Fling! I love getting everyone together to celebrate another wonderful summer and watching the video of all the great memories that were made.
What is an ESF fun fact about you?
I learned about ESF because I was living in Maryland and looking for a summer job when they were promoting the launch of ESF at Georgetown Prep School, which was right across from where I was living. I was hired to work there for the upcoming summer and then soon learned that my husband and I were moving to South Jersey. Thankfully there was another ESF site near where we were moving that still had openings and the rest was history.
What is the most unique/interesting job you have had outside of ESF?
In high school, I worked at Party City. I still have fond memories of Halloween music playing.
What is your favorite quote?
"I've learned that people will forget what you said, people will forget what you did, but people will never forget how you made them feel." —Maya Angelou
What is one of your guilty pleasures?
Chocolate
If you could have any superpower, what would it be?
Teleportation.