Warm Up with Tennis Camp
On Wednesdays, the Tennis campers practice their volleys. Before they start to practice, the campers have to warm up their muscles.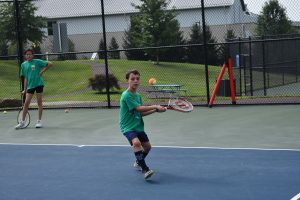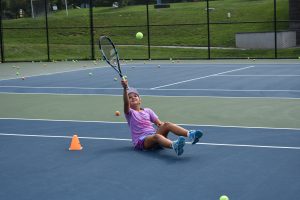 Once they arrive at the tennis courts the campers start their morning with a jog around the courts to warm up their leg muscles. Then the campers go across one of the courts doing different stretches like lunges and high knees.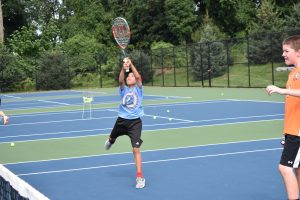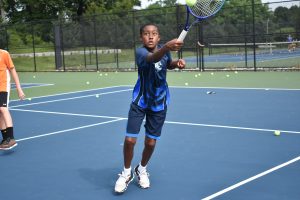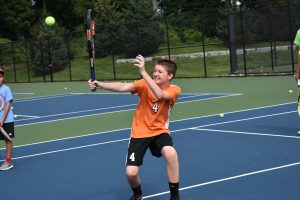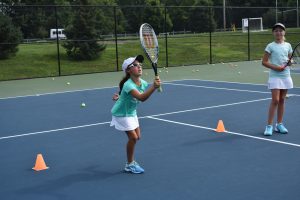 From there the campers divide into their different groups with their coaches and perform a series of tennis warm ups and drills. One drill is named Alligator where the campers take turns trying to return the ball over the net. If they are unsuccessful they have to put one hand behind their back for their next turn. They always have an arm so they can continue to hold their racquet to hit the ball but if they continue to miss hitting the ball they have to kneel and, eventually, lay down on the ground.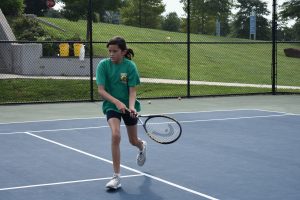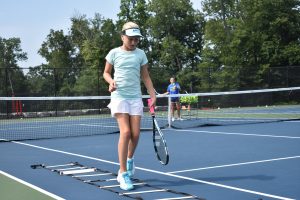 Some of the other drills the campers do include the use of ladders to run through after volleying the ball or hitting the ball at different locations on the court based on where certain cones are placed. They also place rings on the tennis court so the Tennis campers can practice hitting certain targets on the other side of the net. Additionally, the campers practiced their forehand and backhand that they had worked on Monday and Tuesday, before focusing their attention on their volley.