ESF Dream Camp Foundation's Thanksgiving Care Packages
PARTNER WITH US AND GET INVOLVED! 
Does your family have a favorite sweet potato or pumpkin pie recipe?
At ESF, we will remember this year as one in which our work, while disrupted by the pandemic, continued nevertheless and, as in the past, provided us with the opportunity to impact positively the lives of so many young people.
As the Thanksgiving holiday draws near, many Philadelphia families need support now more than ever!  ESF is committed to making a difference in our campers' lives and in our communities. We take great pride in giving back through our foundations, one of which is the ESF Dream Camp Foundation. Since 1998, Dream Camp has provided thousands of under-resourced children and families in Philadelphia, PA and Hartford, CT a place to realize their dreams through innovative and award-winning after-school and summer programs.
The majority of Dream Campers rely on meals provided by their school, and the pandemic has greatly impacted them. To combat the food insecurity experienced by Philadelphia and Hartford Dream Camp Foundation families, ESF Camps & Experiences and the ESF Dream Camp Foundation are partnering with Carlino's Market in Ardmore, PA along with funding from the Hamilton Family Charitable Trust to ensure that everyone has a Thanksgiving meal.
ESF team members shared their favorite Thanksgiving family recipes and with the support of Carlino's Market will assemble and deliver Dream Camp Foundation's Thanksgiving Care Packages to Dream Camp families. The packages will include all the recipes and ingredients needed to create a delicious Thanksgiving Day family feast.
This program would not be possible without the generosity of the Hamilton Family Charitable Trust. With their support, the Dream Camp Foundation's Thanksgiving Care Package program will help 200 Philadelphia low-income children and families this holiday season:
"Food insecurity and hunger pose serious challenges to a child's health, growth, emotional well-being and overall development. Pennsylvania is home to 452,690 hungry children, including 75,140 in Philadelphia, an issue made worse by COVID-19. Many Dream Camp families typically rely on the stability of school meals and are finding themselves food-insecure during this time. Now, more than ever, we wanted to ensure that Dream Camp families will be able to celebrate Thanksgiving with a proper, nutritious meal on their table through Dream Camp's Dream Meals Thanksgiving Care Packages."  

-Hamilton Family Charitable Trust
 Since March, the ESF Dream Camp Foundation team has delivered over 22,000 Dream Meals care packages to hundreds of at-risk families weekly that were identified as being in "critical need" of food in both Philadelphia and Hartford. The initiative has been an overwhelming success, and Dream Camp Foundation families have shared their gratitude.
"I say thank you from the bottom of my heart. Tears came to my eyes when I saw those bags. Just knowing someone cares!" said Kiyana, a Dream Camp parent.
DO YOU HAVE A FAMILY RECIPE FOR PUMPKIN OR SWEET POTATO PIE?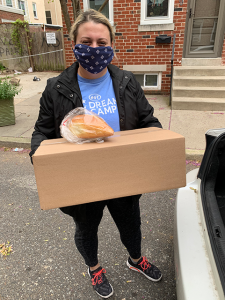 Share your favorite family recipe for pumpkin or sweet potato pie*** by baking one for a Dream Camp Foundation family this Thanksgiving. The generous donation of your time and resources will help in our efforts to continue providing our Dream Camp Foundation community with healthy meals during this time of uncertainty. To complete our Thanksgiving Care Packages, we hope to include your homemade dessert. Donations of your homemade sweet potato or pumpkin pies can be dropped off at ESF Winter Headquarters at 750 East Haverford Road in Bryn Mawr on Mon., Nov. 23rd between 8 – 10 a.m. OR order one of Mama Carlino's delicious apple pies here! 
If you're interested in providing additional support, you can donate here!
***When making your homemade pumpkin or sweet potato pies please keep them nut-free due to food allergies. Thank you!
 TEAM WORK MAKES THE DREAM WORK 
Let's Do This Together – ESF Family Strong!