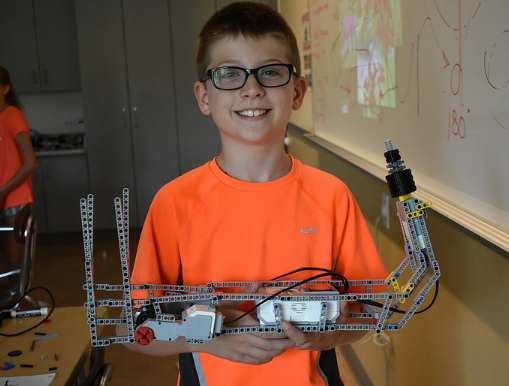 Every Summer Has A Story: A Creative Outlet
Caden, 11
ESF Episcopal
Whether your camper has discovered a new interest, met a new friend, bonded with a counselor or considered ESF a home away from home, we know that every summer has a story. 
"Caden has always been innovative. He likes to be engaged, and he's always looking for something new and interesting. Minecraft has been a creative outlet for him since he started playing a few years ago. He gets to make things, design new worlds, improve on structures he's already built and invent new ideas. Even with years of previous experience, his counselors were so engaging as they taught him new tips and tricks. He learned something new and exciting every day during Minecraft camp and absolutely loved it.
We lived in New York City at the time, so he came to Pennsylvania in the summer specifically to go to ESF Camps. He looks forward to it all year because it's a nice change of pace from his regular city life, and he gets to meet new friends every summer. I love that there's so much for him to do. Between Minecraft lessons, Gaga games and sports, he's never bored.
ESF's Technology Camps have provided a great opportunity to keep his mind active during the summer, get physical exercise and meet other kids (all while safe and supervised!) What I love about Minecraft is that it's completely different than any other video game. It teaches him creative thinking and problem solving that he can take with him into other aspects of his life. He's really had the opportunity to hone those skills at camp."
-Kristin, ESF Episcopal parent
This summer, let us be a part of your story.