Celebrating Service in Honor of MLK Day
ESF is so much more than an organization, summer camp company or a group of full-time and seasonal staff – ESF is a TEAM. We are committed to making a difference in our campers' lives and in our communities. For more than 40 years, we have taken great pride in giving back to the communities we serve especially through our foundations, Dream Camp Philadelphia, Dream Camp Trinity, and Acting Without Boundaries. 
"ESF is a community committed to moving forward. We truly believe in all the families we serve. We believe that the best way to improve ourselves is by improving the lives of others." 

-Michael J. Rouse, Executive Director & Co-Founder
To learn more on how to volunteer with ESF or about ESF's foundations, please email us at info@esfcamps.com. 
ESF Team Advocates to End Hunger
In a country that wastes billions of pounds of food each year, it's almost shocking that anyone in America goes hungry. Yet everyday, there are millions of children and adults who do not get the meals they need to thrive. 
On November 23rd, sixteen members of the ESF Executive Team visited the Cardinal Bevilacqua Community Center at Visitation in the Kensington neighborhood of Philadelphia (Kensington is the epicenter of the region's opioid and widespread homelessness crisis). Team members helped unload 50 turkeys and other Thanksgiving staples that ESF generously donated with the help of Carlino's Market. Team members then met up with former camper and now Executive Director of the Community Center, Katrina Keating. She toured the Team around the community center and explained all the benefits it provides to members of the Kensington community, including ongoing secondary education, after school programs, ESL classes, legal services, sports leagues, and so much more! Check out some photos below of the Team's day in Kensington: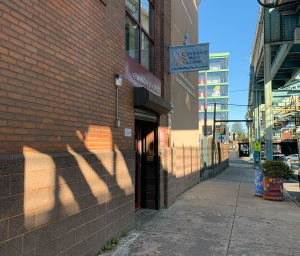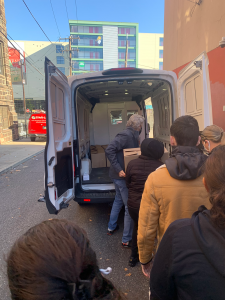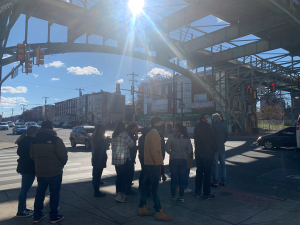 Dream Camp Philadelphia Celebrates Miracle on West 
Dream Camp Philadelphia provides thousands of underserved children innovative and award-winning programs that allow children to recognize their potential, teaches them the skills to reach their goals, and gives them the confidence to dream big. 
Every year, Dream Camp creates a very special holiday surprise by providing several families in need with a "Miracle on West Avenue". Several families from Hartford, CT and Philadelphia, PA are chosen to receive Christmas presents and household items. ESF Executive Team members, Dream Camp staff and volunteers purchase, wrap, and deliver the gifts to families while the children are not at home so they can come home to the surprise of a lifetime! It is always a delight to see the smiling faces of the Dream Camp families when we show up with a van full of gifts. The adults' smiles often turn into tears of relief and joy as we unload boxes and boxes of gifts for our families and campers – a true holiday miracle and blessing. This year, both Philadelphia and Hartford each provided many gifts to 3 families, for a total of 6 families and over 10 students. Violet, a Dream Camp Parent noted how special Miracle on West was, saying,
 "I would like to thank you for all the help for the holidays that you have given my family. We appreciate everything and hope your holiday is filled with love and joy like you have given to my family." 

Dream Camp Trinity
Dream Camp at Trinity College was founded in 1998 and this year marks our 25th season. Our summer camp and year-round academic mentoring program provides a fun, educational, and safe environment for participating elementary school through high school students. Former Dream Campers and Trinity College students serve as tutors and mentors throughout the academic year, as well as counselors during the summer camp season.
One of the main goals of Dream Camp Trinity is to enhance out-of-school educational opportunities for Hartford's children, build confidence and academic skills, and improve success in school – with the ultimate goal of pursuing higher education. During the summer, Dream Camp offers classes in creative and performing arts, health and nutrition, as well as fitness and athletic offerings.  
Dream Camp Quick Stats From 2021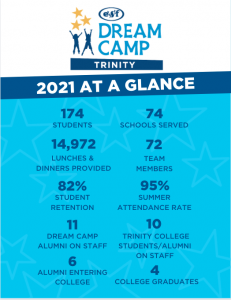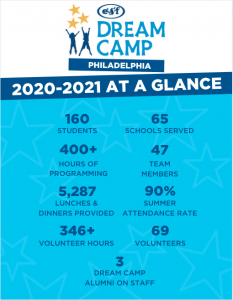 Exciting Leadership Announcement: Introducing the NEW Program Director at Dream Camp Trinity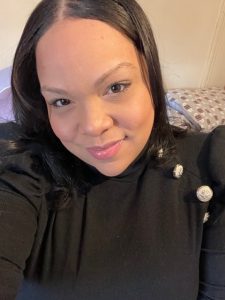 Shivonne Morgan
Program Director, ESF Dream Camp at Trinity College
My name is Shivonne Morgan and I am the new Program Director for ESF Dream Camp at Trinity College. I come to ESF with fourteen years of experience in the Non-profit sector. I have served in multiple capacities all surrounding developing children and families. I started my career in After School programming as a Youth Development Specialist. I had the opportunity to join the Early Childhood Development team where I taught Pre-K for over six years. During that time, I also served as a liaison between the Therapeutic Preschool and after-hours GED Adult programming for the agency. This is where I was able to hone in on my skillset working with young adults. I have also worked as a Case Manager under a robust program targeting mostly justice involved youth ages 16-24 who needed employment, post-secondary education, and soft skills training. I was able to continue my journey in this arena, but serving more in an administrative role. In my previous role I oversaw all six After School Program Sites, three Early Childhood Classrooms, Department of Volunteer Resources, and DCF/ABH Credentialing programing. 
While pursuing my bachelor's degree in Human Services with a concentration in Criminal Justice I have earned my Child Development Associate Credential, State of Connecticut Head Teacher Certification, and a Family Development Credential from UConn. I am ecstatic to join this team and continue our mission of transforming the lives of underserved youth and teaching children to create successful pathways for themselves. 
Acting Without Boundaries Is Preparing For an Upcoming Show
Acting Without Boundaries (AWB) and its company of 84 actors have been quite busy in the past year! From the Hero Award, to musical theatre workshops, and preparing for upcoming shows, AWB has been able to safely continue their mission of providing an open forum for the creative and artistic expression for teenagers and young adults with physical disabilities despite the ongoing COVID19 pandemic. 
Currently, AWB is preparing for its upcoming show Meet Me in St.Louis, based on the critically-acclaimed 1944 movie that has been adapted for the stage! The show will feature actors from both AWB Senior and AWB Junior. Meet Me in St. Louis will be held in Spring 2022! Tickets go on sale on February 2, 2022. To learn more about AWB or to buy tickets, click here.