MLK Day of Service
Today marks the 26th year of the MLK Day of Service, celebrating the life and legacy of Dr. Martin Luther King Jr. As we commemorate this national day of service, we are reminded of our commitment to making a difference in the communities we serve; a commitment which has played a critical role in the development of ESF over the past 40 years!
"At ESF, we define success a little differently and for that reason we make it our priority to impact the communities we serve. It is very important to us," states Michael Rouse, Executive Director. "ESF is so much more than an organization, company or camp. We are a team committed to making a difference in our campers' lives and in our communities. This commitment to service runs deep and has greatly impacted the communities ESF has operated in since 1982. Our Core Values, which underlie the manner in which we operate, are present in every aspect of our work and compel us to make a difference in the lives of others." 
Not only does ESF strive to make a difference in our camp communities, but also through our two foundations: 1) The ESF Dream Camp Foundation, award-winning after-school programs and summer camps in Philadelphia, PA and Hartford, CT designed to help 500 at-risk youth reach their full-potential and 2) Acting Without Boundaries, a theater program that transforms lives and builds self-esteem within an empowered community of people with physical disabilities. Even though 2020 proved to be a challenging year for everyone, both foundations were dedicated to providing joy, hope, and support to those in their communities. 
Dream Camp Meals Initiative
During these uncertain times, many Dream Camp families need extra support. The majority of Dream Campers eat breakfast, lunch or both meals at school, and recent school closures have greatly impacted them. To combat the food insecurity experienced by Philadelphia and Hartford families, ESF Camps and ESF Dream Camp teamed up with world-class Chef Frankie Celenza and Carlino's Market in Ardmore, PA to introduce the Dream Meals Initiative. Each week, Chef Frankie develops a meal plan, and Carlino's Market assembles the Dream Meals care packages. The packages include all of the proteins and vegetables needed to create five different delicious family meals for the week, along with spice packets, labeled ingredients and printouts of the recipes. An email is sent to Dream Camp families with links to Chef Frankie's videos, which demonstrate how to cook each meal. Through the continued delivery of meals combined with plentiful Thanksgiving Care Packages, the Dream Meals initiative has provided over 20,000 meals to date!  As the effects of COVID-19 continue to ripple throughout the world and disrupt our daily lives, Dream Camp is dedicated to providing uninterrupted services and programs for our families in the weeks and months ahead.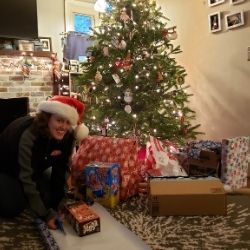 Dream Camp  "Miracle on West Avenue"
In 2008, the Dream Camp team started a holiday tradition called "Miracle on West Ave." Inspired by the generosity of an annual gift by a single donor, matched by donations and gifts from the ESF's Executive Team, and other community members, Dream Camp at Trinity College in Hartford, CT and the ESF Dream Camp Foundation in Philadelphia delivered a complete Holiday Miracle to families this December.
Acting Without Boundaries Moves to Zoom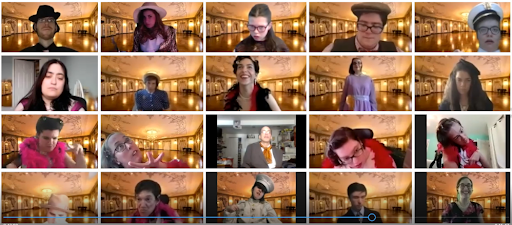 Historically, Acting Without Boundaries hosts two in-person performances each year. With COVID-19, many were worried that the performances would be canceled and the show would not go on. Directors pivoted quickly and moved their workshops, productions, and theater performances online to Zoom! The performers got creative and successfully produced the musical, "Anything Goes" in November with over 500 viewers who tuned in for the performance! At its core, AWB is a unique year-round theater program that provides an open forum for the creative and artistic expression of young people and adults with physical disabilities. It also provides them with a rare opportunity to pursue their love of acting and performing, while building their self-confidence and developing an enhanced belief in themselves and their abilities. It was thrilling to see the performers continue to build their skills and have the outlet to express themselves throughout the year despite the challenges imposed by COVID-19.
As we remember and honor Dr. Martin Luther King Jr. today, let us look to the future and work to make the world a better place through kindness and service throughout our communities.
If you'd like to support these initiatives you can do so here:  Dream Camp Foundation & Acting Without Boundaries