Meet Our Camp Director: Rob Dieckert

Rob Dieckert
Hi, my name is Rob Dieckert and I am the General Manager and Site Director for ESF at The Haverford School. I grew up in Cherry Hill, NJ and attended a day camp for 4 fun-filled summers. I then went to an overnight camp for 7 years. I began working for ESF in the summer of 2000 in Moorestown, NJ as an Archery Instructor. The following off-season, I joined the ESF Executive Team and became an Aquatics Director, followed by a Day Camp Director for 3 summers. In 2005, I became a Site Director at Norwood-Fontbonne Academy for 3 summers before returning to Moorestown from 2008 through 2015, as the Site Director. In 2016, I was the Site Director at ESF at Ranney School in Tinton Falls, NJ and launched the inaugural summer there. In 2017, I moved back to Moorestown, NJ, to launch a new ESF site at William Allen Middle School. 2021, will be my fourth summer as Site Director for ESF at The Haverford School. I graduated from Rutgers University with my Bachelors in Business Administration in 1983. Prior to joining ESF, I ran a computer business for 15 years. I've coached both of my children, as well as others, in Soccer, Basketball and Lacrosse.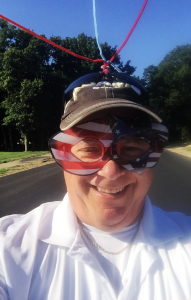 What do you love about working at ESF?
The passion and drive I have to inspire children both during the summer and off-season.
What is your favorite camp tradition?
The Day Camp Moving Up Ceremony, a rite of passage for our 2nd graders. 
What is an ESF fun fact about you?
On Masquerade Day, I dressed up as a Captain Kirk from Star Trek because I was told I look like William Shatner.
What is the most unique/interesting job you have had outside of ESF?
One summer, I worked as a landscaper with my Chemistry teacher in exchange for extra help. It worked!
What is your favorite quote?
"It takes all kinds of people to make a world." – My Father
What is one of your guilty pleasures?
The original Law and Order show.
If you could have any superpower, what would it be?
The ability to fly!