Let the Games Begin!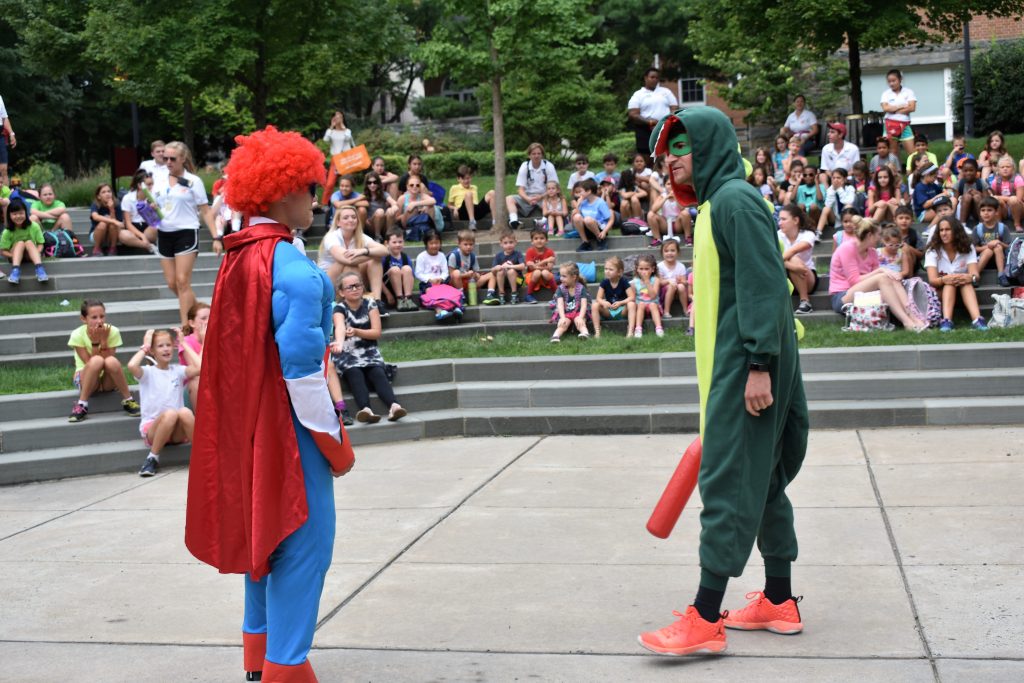 Week 9 may be the end of summer with ESF, but that doesn't mean camp is winding down. Day, Senior and Sports Camps are amping it up as they compete in the 2017 Ultimate Games.
Campers broke up into two teams: Blue versus Green. All tribes and groups have campers representing both teams, which means that for the first time this summer different camps are teaming up together against campers in their own groups.
The Ultimate Games isn't about winning every game and activity in which campers participate. It's about proving that they can embody the ESF Virtues they've practiced all summer.
Teams aren't just competing for bragging rights. They're competing for Captain Respectacular, the ESF superhero who comes to camp to teach campers about the importance of respecting oneself, respecting others and respecting the environment. This week, Captain Respectacular's mission is put to the test as his enemy, Doctor Diss, tries to show disrespect and unsportsmanlike conduct into tribes and groups. Campers on each team are stepping up to see who can better demonstrate that Doctor Diss' attitude is not a part of the ESF lifestyle.
Counselors, Directors and Specialists have the power to hand out points for different activities, which they tally together at the end of the day. While the Voyagers on the Green Team won 300 points for winning a game of Capture the Flag during Senior Camp Sports, the Blue Team won points for an impressive show of sportsmanship.
This is the week when campers show their true ESF spirit as they develop a deep loyalty to their team. Campers show up dressed in their color, and they proudly wear their team's bandana as they go through their camp day.
Parents have the opportunity to get involved as well, as decorated cars can win their camper's team extra points in both morning and afternoon car line.
By the latest count, the Green Team is ahead by 300 points. But with three full camp days left in the week, the Blue Team has time to make a comeback!