ESF Staff Share Their Summer Camp Experiences
Camps are more than a place to spend the summer. They're a family. They're a place where kids can go to learn, grow and form relationships that last forever. Anyone who spent time at summer camp can say that their experiences are what made them who they are today.
For some, camp continues into adulthood. So many of the ESF staff members started out as campers, and this is what they had to say:
 Meg: Day Camp Counselor
"I loved going to ESF every summer as a camper. I looked forward each year to meeting my counselors at Family Orientation, performing in the camp shows, playing all different sports, swimming, competing for the Spirit Stick or Oracle, and so much more. It's hard to briefly explain my ESF experience because I have been with the camp for so long.
ESF was, and still is, always such a happy and positive environment that it made every moment at camp fun and memorable. I kept coming back not only for the activities and experience that ESF provides, but also for the lifelong friends I made and got to see each summer. I still keep in touch with almost all of the friends I made at ESF, some of which I met on my very first day of Day Camp!
Some of my favorite memories at ESF are the Ultimate Games, the Senior Camp sleepover, the Day Camp shows, all of the different counselors I had, and climbing the rock wall. ESF has been a part of my life for the past 13 years, and it is really where I have grown up."
Max: Sports Camp Counselor

"My favorite memories (from Sports Camp) were the bonding times with my ESF friends. ESF is a place where children congregate with people they otherwise would not meet since campers from several different schools attend ESF. Moreover, World League allowed opportunities to compete against children from different campuses. This activity hones the team aspect of sports camp and truly bonds children.
I am still best friends with a boy named Andrew, a person I met at ESF and reacquainted with in high school. Without ESF, the two of us wouldn't have formed a friendship competing side by side in skills competitions and World League. ESF creates friendships that last forever. Those are my favorite memories.
Now, I'm back as a Sports Camp Counselor because I feel ESF is the best summer experience in Pennsylvania. ESF is a warm, inviting place where children make friends that last for years onward. "
Elyse: Communications and Marketing Intern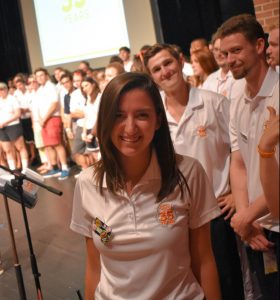 "For me, camp was the place where I always felt safe. I was willing to conquer my fear of heights because I trusted the staff enough to know they would never let me get hurt. I never felt self-conscious because there was no judgement. My camp was a community, so I felt supported in a way that's hard to find anywhere else. As a senior in college, I'm terrified for what the real world is going to hold for me. But so many of the skills I've learned at camp– taking risks, coping with setbacks, building relationships—have helped me prepare for what's to come."