Exciting Summer Updates
Summer 2021 is shaping up to be our best summer yet! Learn about all of our exciting new programs, our ESF Dream Meals initiative, and the premiere of Stone Soup,  the Acting Without Boundaries Junior spring production! 
---
The ESF Dream Meals Program is Back 
Food Insecurity continues to be a challenge for many at-risk families. In 2020, The ESF Dream Camp Foundation provided over 21,000 healthy meals to Dream Camp students and their families. Because of the generosity of individuals, foundations, and corporations, we are continuing our Dream Meals initiative this spring. We have once again teamed up with world-class subject matter expert Chef Frankie Celenza and healthy food purveyor Carlino's Market, to provide ingredients, recipes, and demonstration videos to nourish, support, and connect with our Dream Camp families. Chef Frankie is a nationally recognized chef, an Emmy award-winning tastemaker, and the host of a cooking show on Tastemade.com. He is dedicated to inspiring home-cooked meals which allow individuals and families to get comfortable in the kitchen, learn about food preparation and cooking skills, and experiment with new cuisines and flavors. If you would like to be a part of the ESF Dream Meals initiative and help feed hungry children, click the link here to support ESF Dream Meals! 
To learn more about Dream Meals, watch the video
Acting Without Boundaries Presents: Stone Soup
Established in 2008, AWB Juniors is the first stepping-stone of the AWB program. Actors, as young as age five, gather together each month to rehearse and prepare for an annual musical. Using the context of the theater arts, these gifted actors explore their imagination, engage in movement activities, celebrate their curiosity, and find their voice! The actors of the AWB Junior program are the youngest thespians at AWB and like all participants at AWB, each actor has a physical disability. These young individuals collaborate to create a script, write lyrics to songs, and bring their characters to life! After nine months of rehearsals, their experience culminates with a musical in the spring. Throughout this process, the actors gain confidence while building skills in teamwork, acting, and public speaking. 
Past AWB productions include Singin' in the Rain, The Dot, Oliver, Fiddler on the Roof, Annie, The Wizard of Oz, and more. Make sure to mark your calendars for their upcoming World Premiere Event of Stone Soup on Sunday, April 18th at 4 p.m. via ZOOM.  Stone Soup is a European folk story in which hungry strangers convince the people of a town to each share a small amount of their food in order to make a meal that everyone enjoys. This AWB Junior version is set in Philadelphia. Watch as two tourists get immersed in Philly culture as they navigate the City of Brotherly Love. They even learn how to order their cheesesteaks wit! You won't want to miss this!
Register to watch the performance here.
---
ESF Announces 2 Pro Team Sports Overnight Camp Experiences
As a part of our Pro Team Sports Camps summer experiences, ESF is thrilled to announce brand-new overnight soccer and basketball camps for boys & girls, ages 10-17! Join Arsenal Football Development USA Summer Camps or Brooklyn Nets Basketball Academy for a 6 day, 5 night Overnight Camp from August 15-20, 2021 at Camp IHC in Equinunk, PA! 
Just a few hours from Manhattan and Philadelphia, Camp IHC has been serving youth for over 80 years. The state-of-the-art facility offers the perfect amenities for a robust overnight camp adventure and 2 premier Pro Team Sports Camp experiences.
Additional camp activities include rock climbing, canoeing, ropes course, and zip-lining. Campers can also make a splash with aquatic activities including the lake trampoline, paddle boarding, and swimming.
Today more than ever, children need a safe place to work on their game, explore new interests, interact with their peers, and have fun. Now's their chance!
The Arsenal and Nets curriculum, combined with Camp IHC's pristine facilities is bound to be a winner! Spaces are limited*, secure your spot today.
| | |
| --- | --- |
| | Brooklyn Nets Basketball Academy |
*Overnight camp will follow our Health & Safety Guidelines, which resulted in a successful Summer 2020 with zero COVID cases. ​Guidelines will be updated to reflect the CDC, local, and state recommendations at the time of camp.
---
Children's Hospital of Philadelphia Summer Program in Pediatric Medicine
Does your child dream of being a medical professional? This program is the perfect place to chart their course and prepare them for college, all while learning from experts in the medical field and making friendships to last a lifetime!
Rising 11th & 12th-grade students are invited to apply for a unique pre-college program with Bold Summers and Children's Hospital of Philadelphia. Students take a deep dive into pediatric medicine and start their path to success as medical professionals! This program is ideal for students interested in careers in the healthcare field, including medicine, nursing, respiratory therapy, physical therapy, and occupational therapy. With a mix of lecture-based and skill-based learning, the CHOP Summer Program provides broad exposure to the various professions that specialize in the care of babies, children, and young adults.
This program is one of a kind and designed to be a pathway to pre-medicine. Apply by April 30th here!
ESF Dream Camp Philadelphia Has a New Home!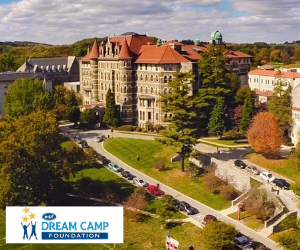 At the ESF Dream Camp Foundation, we are preparing curriculum and programs for an awesome (in-person) summer 2021!  We are thrilled to announce that our new home for this summer will be Chestnut Hill College in Philadelphia, PA. The extensive, state-of-the-art indoor and outdoor facilities will provide a safe and secure environment and the ultimate summer playground for our Dream Campers. We recognize the value of long-term relationships with our campers and expect to see many of our alumni campers and staff joining us at Chestnut Hill College for a spectacular summer in 2021.