Meet Our Camp Director: Debbie DeSmit

Debbie DeSmit
Hi, my name is Debbie DeSmit and 2020 will be my sixth year as Site Director for ESF at Gilman School. I am also proud to be a Lower School teacher at Gilman. My life has been a journey involving children. As a teenager, I spent much time babysitting. Through college and beyond, I would "house sit" for children and families and enjoyed a spell as a nanny. I am now blessed with being a mother of 4 boys (young men at this point) and a girl. We are an active family and are involved in athletics that include tennis, squash, track and field, marathons, basketball, and soccer and lacrosse at Club and Collegiate levels. My association with ESF began in 2010 as a Camp Counselor. From there, my positions with ESF evolved from Day Camp Director to Assistant Site Director and then, to Site Director. Throughout the summers, I have become more involved and connected to all of ESF's Camps at Gilman which include Day Camp, Mini Camp, Senior Camp, Sports Camp and Major Camp. I continue to enjoy providing support and leadership to Team members and campers.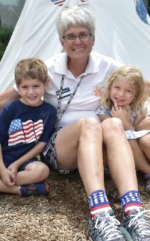 What do you love about working at ESF?
The passionate people I get to work with every day.
What is your favorite camp tradition?
The Spirit Stick Story – We live it every day! It is fun to watch the campers arrive every day and bring their positive energy to a school's quiet environment.
What is an ESF fun fact about you?
My husband Doug and son Ryan also work for ESF Gilman.
What is the most unique/interesting job you have had outside of ESF?
Our family cleans and recoats the surface on gymnasium floors.
What is your favorite quote?
"The measure of a life, after all, is not its duration, but its donation."-Corrie Ten Boom
What is one of your guilty pleasures?
Peppermint Stick Ice Cream.
If you could have any superpower, what would it be?
Replicate myself in order to be more helpful to more people more often.