Senior Campers Put on A Show for Horizons
The Senior campers have been sharing the campus this summer with Horizons at The Episcopal Academy, a camp for children who come from low-income families. To do something special for Horizons campers for their last week at camp, the Adventurers organized a talent show for them.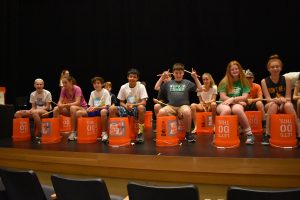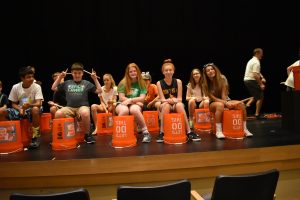 The campers drummed along to the song Gone Gone Gone by Phil Phillips which they learned this week in True Life Adventure. The campers did well keeping the rhythm going and the Horizons campers sang along to the song in the audience. Next on the agenda was a special performance by one of the Senior campers and a group of Adventurers. The group have been using their Apprenticing time every day to learn the songs Wonderwall by Oasis and Radioactive by Imagine Dragons. Jonah was on bass guitar, Nathan was on bell kit and Zack played the bucket drums. It took them about three weeks to learn the songs.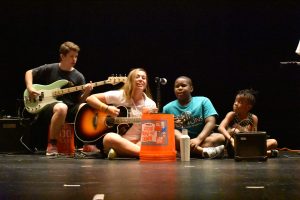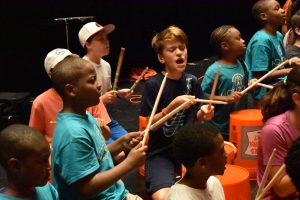 Sam invited some of the Horizons campers onto the stage to help her sing the songs and they loved being part of the performance! Everyone in the audience was tapping their feet and singing along.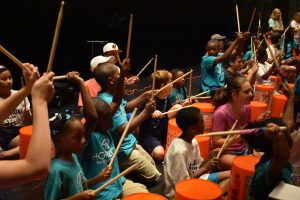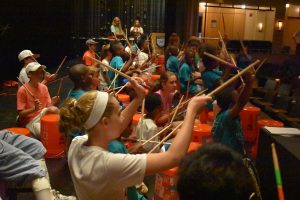 Each Senior camper was paired up with a Horizons camper and everyone went on the stage to play Uptown Funk by Bruno Mars together on the bucket drums. All the campers were so enthusiastic with drumming on the buckets and got their energy out.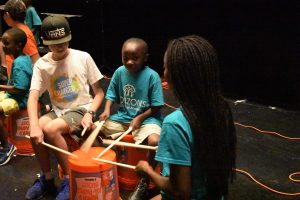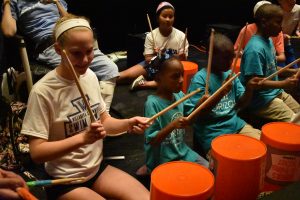 The talent show ended with a huge dance party on the stage with both the Senior campers and the Horizons campers dancing together. As an added gift to Horizons, the Senior campers will be collecting toys until the end of the summer which will be donated to the Horizons program and be given at their holiday party.