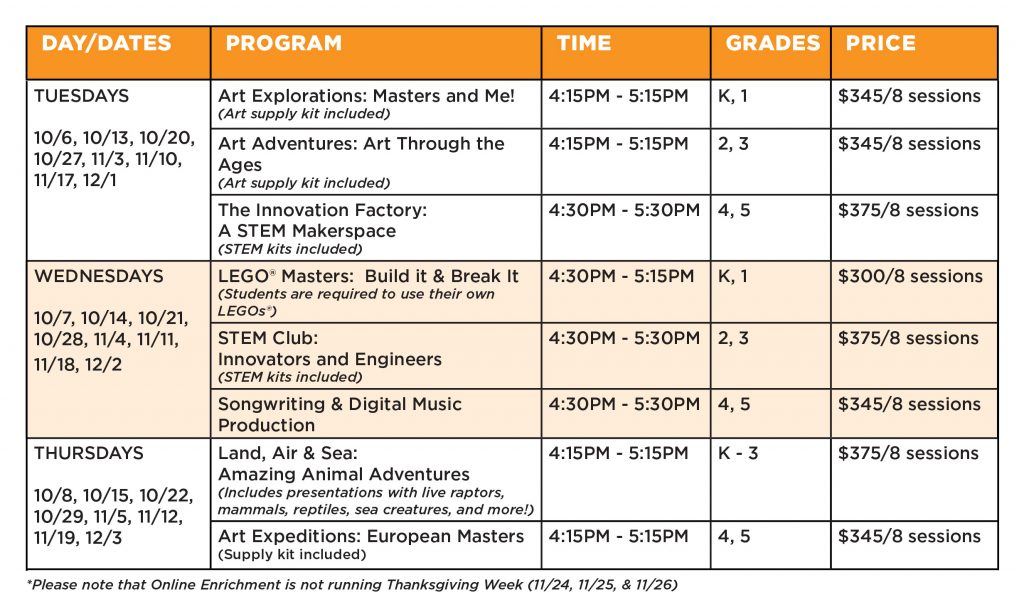 Highlights
A Zoom platform will provide safe and secure delivery of engaging experiences that are educational, meaningful, and fun. Your child's unique Zoom link will be emailed to you directly after registering.
Students will be grouped by grade level and instructed each day by live instructors with low staff to student ratios.
All activities are designed to take place in the student's home with minimal guidance from caregivers.
Customized supply kits, aligned with our unique programming, will be mailed in advance to students participating in STEM and Art Classes.
Questions? Contact us at 1-800-529-CAMP (2267)
LIMITED ENROLLMENT
Registration ends 9/30/20
Administration and Staff
ESF After-School Online STEAM Enrichment is led by year-round ESF Team members, as well as teachers who are carefully selected based on relevant experience and expertise.
All Team members participate in training prior to the start of the program and continue with professional development throughout the duration.
For daily questions, while Enrichment is in session, please contact:
Michelle Sklar, Director, ESF After-School Online STEAM Enrichment Program
msklar@esfcamps.com
609-548-5401
For questions regarding registration and payment, please contact:
ESF Customer Engagement Specialists
info@esfcamps.com
800-529-CAMP (2267)
ESF After-School Online STEAM Enrichment Preparation List
To be prepared and ready to engage, we recommend that you have the following items available each day:
A computer or tablet.
A place to set up your computer or tablet with space to spread out your materials.
If participating in STEM and Art courses, kits will be mailed directly to your home prior to the start of ESF After-School Online STEAM Enrichment. If you do not receive these boxes by the Friday prior to the start of Enrichment, please call Michelle Sklar, Director at 609-548-5401.
Code Of Conduct
ESF encourages fun, friendship, and safety in a positive atmosphere. We have established behavior guidelines that revolve around the "Three R's" that all campers follow:
Respect yourself
Respect others
Respect your environment
Netiquette
Treat other students online as you would like to be treated yourself.
Don't engage in cyberbullying.
Never reveal personal information online.
Dress appropriately and be aware of your background.
Avoid inappropriate or objectionable language.
Protect your own privacy and keep the privacy of others.
Be polite, respectful, and an attentive listener.
Be helpful and understanding of everyone's tech abilities. Remember that using technology is a privilege!
Safety and Security
Safety and security are our top priorities, especially when we are conducting our programs in the virtual world. We are committed to abiding by the following safety and security protocols:
Our supervision ratios will be maintained at 1 Team member to every 8 students.
Students will never be alone in a virtual room with a Team member.
Live programs will be recorded for safety purposes only and will be stored securely in our ESF Dropbox. Photographing students is strictly prohibited.
Teachers will utilize a variety of Zoom security protections including the ability to:

Mute a participant.
Stop a participant's video.
Prevent screen sharing.
Rename a participant.
Put a participant on hold.
Lock the meeting to prevent new participants from entering.
Place participants in a waiting room before admitting them to the meeting.

In the event of a student health emergency during a live program, the teacher will call the primary parent on file to alert them of the emergency. If that parent cannot be reached, the teacher will call the secondary parent and then, if needed, the emergency contact.
For Parents
At ESF, Inc., we are committed to protecting the privacy of children who use our websites and platforms. We respect your right as a parent to understand our information practices, including the types of personal information we may collect from children, the uses to which we may put that information, and whether and with whom we may share that information. Read ESF's Children's Online Privacy Policy below for details on our practices. Our Internet Safety and Security tips that are detailed above and are designed to help start a dialog with your child(ren) about staying safe online, while enjoying all that online experiences have to offer.
Children's Privacy Policy
ESF, Inc. is committed to protecting the privacy of children who use our websites and platforms. ESF's Children's Online Privacy Policy explains our information collection, disclosure, and parental consent practices with respect to the information provided by children under the age of 13 ("child" or "children"), and uses terms that are defined in ESF's general Privacy Policy. This policy is in accordance with the U.S. Children's Online Privacy Protection Act ("COPPA"), and outlines our practices in the United States regarding children's personal information. For more information about COPPA and general tips about protecting children's online privacy, please click link to Protecting Your Child's Privacy Online.
ESF Terms Of Use
Acceptance of the Terms of Use
These ESF Terms of Use are entered into by and between the customer that has accepted these Terms of Use on behalf of themselves and any of their children or any minors under their legal guardianship ("you") and ESF, Inc. ("Company", "we" or "us"). The following terms and conditions, together with any documents they expressly incorporate by reference (collectively, these "Terms of Use"), govern your access to and use of our website and other related platforms, products, and/or services and including any related Company mobile applications software or Company servers (collectively, the "ESF Sites"), including any content, functionality, and services offered on or through the foregoing, whether as a guest or a registered user.
These Terms of Use will be effective as of the date that you create your account with us. PLEASE READ THE TERMS OF USE CAREFULLY. BY USING THE ESF SITES, YOU AGREE TO BE BOUND AND ABIDE BY THE TERMS SET FORTH HEREIN AND OUR PRIVACY POLICY FOUND AT https://www.esfcamps.com/esf-privacy-policy/ (THE "PRIVACY POLICY"), WHICH IS INCORPORATED HEREIN BY REFERENCE. IF YOU DO NOT WISH TO BE BOUND BY THE TERMS OF USE OR PRIVACY POLICY, YOU MAY NOT USE THE ESF SITES.
IF YOU ARE USING THE ESF SITES ON BEHALF OF A BUSINESS OR SOME OTHER ENTITY, YOU REPRESENT AND WARRANT THAT YOU ARE AUTHORIZED TO GRANT ALL LICENSES SET FORTH IN THESE TERMS OF USE AND TO AGREE TO THESE TERMS OF USE ON BEHALF OF THE BUSINESS OR ENTITY.
IF YOU ARE A PARENT OR LEGAL GUARDIAN YOU REPRESENT AND WARRANT THAT YOUR CHILD OR ANY MINOR UNDER YOUR GUARDIANSHIP UTILIZING THE ESF SITES WILL BE BOUND BY AND ABIDE BY THE TERMS SET FORTH HEREIN AND YOU WILL REMAIN LIABLE FOR ANY BREACH OF THESE TERMS OF USE BY SUCH CHILD OR MINOR.
Purchases made via the ESF Sites, and authorizations to collect information regarding individuals under the age of thirteen in accordance with the Privacy Policy, are offered and available to users who are 18 years of age or older, and reside in the United States or any of its territories or possessions. By doing either of the foregoing, and/or accepting these terms of use in order to allow your child or any minor under your legal guardianship to participate in ESF services via the ESF Sites, you represent and warrant that you are of legal age to form a binding contract with the Company and meet all of the foregoing eligibility requirements. If you do not meet all of these requirements, you must not access or use the ESF Sites.
Questions? Contact us at 1-800-529-CAMP (2267)
LIMITED ENROLLMENT
Registration ends 9/30/20