Meet Our Camp Director: Chris Guda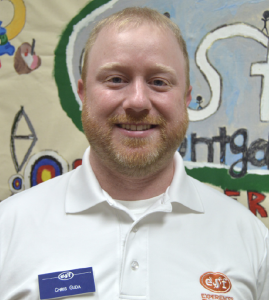 Chris Guda
Hi, my name is Chris Guda and I am the Site Director for ESF Chestnut Hill. I grew up in New Canaan, CT and have always been involved in summer camps; attending both traditional and sports camps throughout my childhood and working at day camps since the age of 14. I began working for ESF in the summer of 2004 in Greenwich, CT, as the Senior Camp Sports Specialist and went on to serve as the Senior Camp Director and then the Assistant Site Director. I made the move to Pennsylvania to join ESF's Executive Team in September of 2013 and was the Site Director for ESF at Montgomery School for four years from 2014 to 2017 before becoming the Site Director at ESF in Chestnut Hill in 2018 at Norwood-Fontbonne Academy and Chestnut Hill College. I graduated from Miami University (OH) with a Bachelor's degree in History and a minor in Coaching. Outside of summer camps, I have worked with children in many different capacities; I have been a coach for youth soccer and baseball, a soccer referee and a youth mentor. Prior to working with ESF full-time, I designed and ran youth programming for 3rd–12th graders, as the Director of Youth Ministries at the Congregational Church of New Canaan, CT for nine years.

What do you love about working at ESF?
The passionate people I get to work with every day.
What is your favorite camp tradition?
The Senior Camp Sleepover.
What is an ESF fun fact about you?
I once went scuba diving in the campus pond for an ESF camp event.
What is the most unique/interesting job you have had outside of ESF?
Server for a catering company.
What is your favorite quote?
"Be the change you wish to see in the world." —Gandhi
What is one of your guilty pleasures?
Video games.
If you could have any superpower, what would it be?
Teleportation.